Hassan Rouhani and Vladimir Putin's view puts them miles apart from UK and US on ending conflict, prime minister tells CBS David Cameron speaking at the UN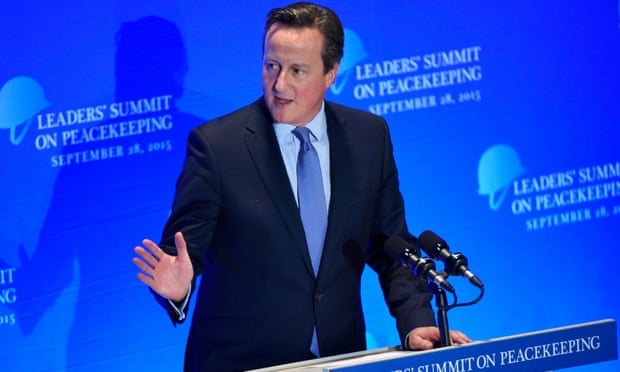 David Cameron, who spoke at the UN general assembly, said in a television interview that a deal to work with Bashar al-Assad, the Syrian president, would be 'phoney'. Photograph: Justin Lane/EPA Rowena Mason in New York Tuesday 29 September 2015 10.45 EDT Last modified on Tuesday 29 September 2015 13.43 EDT
Britain and the US are miles apart from Iran and Russia on how to stop the bloodshed in Syria because Tehran and Moscow will not contemplate the end of the Assad regime, David Cameron has said. The prime minister said working to end the four-year Syrian civil war was the "most difficult, intractable problem" that he and the US president, Barack Obama, had faced, as he gave the clearest explanation yet of the differences between the world leaders.
In an interview on US television on Tuesday, Cameron set out details of the intractable differences after his 45-minute meeting with Hassan Rouhani, the Iranian president, and Obama's 90-minute meeting with Vladimir Putin, the Russian president, at the UN general assembly in New York on Monday. Putin says he can work with Obama despite trading barbs on Syria and Isis He told CBS: "So far, the problem has been that Russia and Iran have not been able to contemplate the end state of Syria without Assad."
Cameron confirmed for the first time that he agreed with the US that Bashar al-Assad could be part of a transitional government. But he said an explicit deal to work with the Syrian president to take on Islamic State would be "phoney" and self-defeating.
The prime minister said: "I know there are people who think IS [Isis] is even worse than Assad, so shouldn't we somehow cut a deal with Assad to team up and tackle IS. It sounds enticing, but even if it were the right thing to do, which it isn't, it wouldn't work. We need a Syria free from IS and Assad. "What America said, which I agree with, is that you need a transition. But what is clear is that at the end of that, Assad cannot be the head of Syria. It wouldn't work." Read full article at theguardian.com